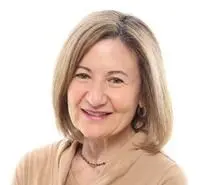 Linda Greenfield
My education includes a Master's Degree in Counseling and Guidance and an MBA. I am a Certified Master of Career Services as designated by the National Career Development Association (NCDA) and an Academy Certified Resume Writer (ACRW). I have worked with thousands of clients of all ages and stages in their careers. My goal is to provide my clients with the self-knowledge and corresponding career information in a way that makes clients feel at ease and motivated to move forward.
My clients consistently tell me that I am "so easy to talk to", "supportive" and "knowledgeable". Please see my Testimonials . I respect each client's unique path and tailor each session to my clients' career goals.
I counsel clients in my private practice and have recently consulted at both USC and LMU in their career centers. I am the preferred provider of career services to USC alumni worldwide, 3 years post-graduation, and provide career services to alumni of California Lutheran and Tulane University. I also provide career services to California attorneys, law students, and Bar applicants; please contact me for information on potential complimentary services. Past experience includes providing outplacement services to ex-Marriott employees through The White Hawk Group and writing career webinars for RiseSmart Outplacement and Career Transition Service. I have presented on a variety of career related topics at USC, UCLA, Pierce and Santa Monica Community Colleges, the National Career Development Association (NCDA) Global Conference (Counseling Lawyers for the 21st Century), Career 5.0 Los Angeles (Counteracting Ageism in Your Interview & Marketing Materials), the Institute for Educational Advancement (summer program for gifted high school students), Canoga Park Employment Development Department (EDD) job club, and at the Oaks at Ojai. I have been interviewed at the Wall Street Journal, the Sacramento Bee and the Chicago Tribune.
My expertise includes LinkedIn profile optimization and the use of LinkedIn for career exploration, networking and job search. I received my Bachelor of Science from Tulane University, my Master of Business Administration from USC, and my Master of Science in Counseling and Guidance from California Lutheran University. My prior experience includes a variety of corporate positions in finance and management.
Given the world of work is constantly changing and career practices continue to evolve, I spend a portion of every day in knowledge enhancement. I am continually sourcing current Los Angeles labor market information, business trends, local industry and company news and updates on career best practices. In addition, I attend local and national conferences as a member of the National Career Development Association (NCDA) and the California Career Development Association (CCDA).